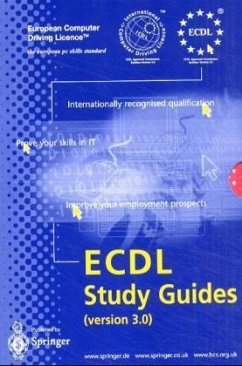 ECDL Study Guide 3.0, 7 Vols.
Basic Concepts of Information Technology; Using the Computer & Managing Files; Word Processing; Spreadsheets; Database; Presentation; Information & Communication
Mitwirkender: Lancaster, John; Stott, David; Penfold, David
Broschiertes Buch
Sprache: Englisch
versandkostenfrei

innerhalb Deutschlands

Versandfertig in über 4 Wochen

Alle Preise inkl. MwSt.
Andere Kunden interessierten sich auch für
ECDL Study Guide 3.0, 7 Vols.
The European Computer Driving Licence (ECDL) is a European-wide qualification that enables you to demonstrate your competence in computer skills. It covers a range of specific knowledge areas and skill sets, broken down into seven modules. It is becoming the most widely recognised qualification, in the UK and Europe, for work-related computer use. Springer's study guides have been designed to complement the ECDL syllabus. Each study guide contains a set of clearly defined objectives that directly relate to the syllabus, and takes you through all the knowledge areas and skills required to understand and pass the corresponding module of the ECDL syllabus. Written in clear, jargon-free language with self-paced exercises and review questions throughout, these books will provide you with an understanding of all the key elements which will prepare you for the ECDL tests. The seven study guides are: Module 1: Basic Concepts of Information Technology (ISBN 1-85233-442-8) Module 2: Using the Computer & Managing Files (ISBN 1-85233-443-6) Module 3: Word Processing (ISBN 1-85233-444-4) Module 4: Spreadsheets (ISBN 1-85233-445-2) Module 5: Database (ISBN 1-85233-446-0) Module 6: Presentation (ISBN 1-85233-447-9) Module 7: Information & Communication (ISBN 1-85233-448-7) The study guides are also available separately.
Produktinformation
---
Verlag: Springer, Berlin
2001
Ausstattung/Bilder: w. figs.
Seitenzahl: 853
Englisch
Abmessung: 225mm x 152mm x 62mm
Gewicht: 1658g
ISBN-13: 9781852334550
ISBN-10: 185233455X
Best.Nr.: 10052610
David Stott, writer and photographer, South India-born and raised in the vibrant suburbs of Peterborough, he acquired his taste for India in the womb. At the age of 28 he finally discovered the variety and diversity of flavours at which butter chicken had merely hinted and since his first visit he s become an annual visitor to India, steadily learning to tell his chole from his bhature and establishing a serious addiction to masala dosas along the way. David Stott splits his time between India and his adopted home in vibrant suburban Sydney, where the pace of life is such that he occasionally has to pinch himself to make sure he's awake.