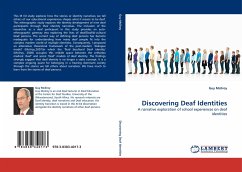 Discovering Deaf Identities
A narrative exploration of school experiences on deaf identities
Broschiertes Buch
Sprache: Englisch
versandkostenfrei

innerhalb Deutschlands

Sofort lieferbar

Alle Preise inkl. MwSt.
Andere Kunden interessierten sich auch für
Discovering Deaf Identities
This M Ed study explores how the stories or identity narratives we tell others of our educational experiences shapes what it means to be deaf. This ethnographic study explores the identity development of nine deaf participants through their identity narratives. The inclusion of the researcher as a deaf participant in this study provides an auto- ethnographic gateway into exploring the lives of deaf/Deaf/bi-cultural DeaF persons. The current way of defining deaf persons has become inadequate for understanding how many deaf people fit into the complex modern world of multiple identities. Consequently, I proposed an alternative theoretical framework of the post-modern 'dialogue model' (Mcilroy,2007)in which the 'fluid bicultural DeaF identity' (Mcilroy, 2008) occupies this middle space between the orthodox medical 'deaf' and social 'Deaf' models of deaf identity. The findings strongly suggest that deaf identity is no longer a static concept. It is a complex ongoing quest for belonging in a hearing dominant society through the stories we tell others about ourselves. We have much to learn from the stories of deaf persons.
Produktinformation
---
Abmessung: 220mm x 150mm x 12mm
Gewicht: 275g
ISBN-13: 9783838340173
ISBN-10: 3838340175
Best.Nr.: 29426432
Guy Mcilroy is an oral Deaf lecturer in Deaf Education at the Centre for Deaf Studies, University of the Witwatersrand, South Africa. His research interests are Deaf identity, deaf narratives and Deaf education. His identity transition is traced in this M Ed dissertation alongside the identity narratives of other deaf persons.
Ein Marktplatz-Angebot für "Discovering Deaf Identities" für EUR 66,00
Zustand
Preis
Porto
Zahlung
Verkäufer
Rating
wie neu
66,00
0,00
Banküberweisung
rmg-buch
96,6%
ansehen