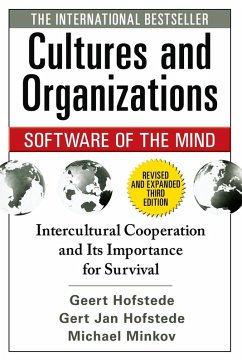 Cultures and Organizations - Software of the Mind
Intercultural Cooperation and Its Importance for Survival
Broschiertes Buch
Sprache: Englisch
versandkostenfrei

innerhalb Deutschlands

EUR 18,95

Sofort lieferbar

Alle Preise inkl. MwSt.
*Früherer Preis

-14 %
Andere Kunden interessierten sich auch für
Cultures and Organizations - Software of the Mind
The international bestseller on managing cross-cultural workforces expanded and updated!
Named one of the top 20 most influential business thinkers of 2008 by The Wall Street Journal , business anthropologist Geert Hofstede has fully updated his classic work on groupthink.
Since its original publication in 1991, Cultures and Organizations has been helping business leaders understand how people think as members of a group which dramatically increases managers effectiveness leading and developing cross-cultural workforces. This groundbreaking work reveals:
The unexamined rules behind the thoughts and emotions of people of different cultures
Ways in which cultures differ in the areas of collectivism/individualism, assertiveness/modesty, tolerance for ambiguity, and deferment of gratification
How organizational cultures differ from national cultures, and how they can be managed
New material in this expanded third edition includes the latest data from the author s ongoing field research and new insight into how cultural factors contributed to the current economic situation.
Cultures and Organizations offers managers practical solutions for solving conflict between different groups and turning cultural differences to their advantage.

Produktinformation
---
Verlag: Mcgraw-Hill Professional
2010
3rd rev. and exp. Ed.
Ausstattung/Bilder: 3rd rev. and exp. Ed. 2010. XIV, 561 p. w. figs. 226.1 mm
Seitenzahl: 576
Englisch
Abmessung: 277mm x 216mm x 9mm
Gewicht: 745g
ISBN-13: 9780071664189
ISBN-10: 0071664181
Best.Nr.: 29017971
Prof. Geert Hofstede ist Experte für interkulturelle Fragen.