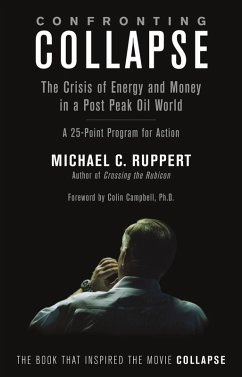 Confronting Collapse: The Crisis of Energy and Money in a Post Peak Oil World: A 25-Point Program for Action
Broschiertes Buch
Sprache: Englisch
versandkostenfrei

innerhalb Deutschlands

Versandfertig in über 4 Wochen

Alle Preise inkl. MwSt.
Andere Kunden interessierten sich auch für
Confronting Collapse: The Crisis of Energy and Money in a Post Peak Oil World: A 25-Point Program for Action
"First published in 2009 as 'A presidential energy policy: twenty-five points addressing the Siamese twins of energy and money'"--T.p. verso.
Produktinformation
---
Gewicht: 331g
ISBN-13: 9781603582643
ISBN-10: 1603582649
Best.Nr.: 27961986
'Ruppert has an unblemished track record for saying things that are incendiary, outrageous, shocking - and true!' Richard Heinberg, author of Peak Everything.
Michael C. Ruppert is a former Los Angeles Police Department narcotics investigator turned investigative journalist. He is the author of Crossing the Rubicon: The Decline of the American Empire at the End of the Age of Oil, (New Society, 2004) and the founder of the online newsletter, From the Wilderness. He currently lives in Los Angeles.
Inhaltsangabe
The need for leadership.
Thinking like a President in the face of a global problem.
Depletion: Refilling Niagara Falls with a garden hose.
Reserve estimates - Playing a fool's game with numbers.
Infrastructure and the grid.
Iraq.
Saudi Arabia.
Food.
Evaluating alternative energies.
The alternatives.
Localization: The alternative to the alternatives.
Money.
Foreign policy.
Setting the policy.
An emergency 25-point plan for action.