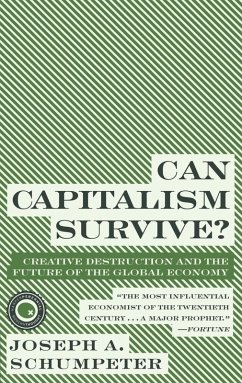 Can Capitalism Survive?
Broschiertes Buch
Sprache: Englisch
Weihnachts-Garantie: Jetzt bestellt - rechtzeitig geliefert!
versandkostenfrei

innerhalb Deutschlands

Sofort lieferbar

Alle Preise inkl. MwSt.
Andere Kunden interessierten sich auch für
Can Capitalism Survive?
Can capitalism survive? No. I do not think it can, Joseph Schumpeter writes at the beginning of Part II of CAPITALISM, SOCIALISM, AND DEMOCRACY. We are now publishing this famous section (about 100 pages) as a stand alone book. In these pages Schumpeter introduced to the world the concept of "Creative Destruction." This famous theory states that in capitalist economies new innovations, when first introduced, erode the position of established firms, while providing new and previously unforeseen avenues of economic growth. For example, think of the music industry in our lifetime: Mp3s (by extension, iPods) have replaced CDs, which in turn replaced cassettes and records in the 1980s. Schumpeter also controversially argued that capitalist societies hold the seeds of their own destruction in their very foundations. Not only is it a system reliant on the inherently destabilizing force of change ("creative destruction"), but it is also susceptible to large monopolistic enterprises such as Wal Mart, which come to power as a result of capitalist innovation, but once dominant, hold the power to eliminate competition and, by extension, innovation.
Produktinformation
---
Verlag: Harpercollins Us
2011
Ausstattung/Bilder: 2009. 208 p. 184 mm
Seitenzahl: 195
Englisch
Abmessung: 178mm x 112mm x 18mm
Gewicht: 165g
ISBN-13: 9780061928017
ISBN-10: 0061928011
Best.Nr.: 26319579
Prof. Dr. Joseph A. Schumpeter (1883-1950) war einer der bedeutendsten Nationalökonomen des 20. Jahrhunderts.