Chapter One: Thinking about Social Change in America
No one is left from the Glenn Valley, Pennsylvania, Bridge Club who can tell us precisely when or why the group broke up, even though its forty-odd members were still playing regularly as recently as 1990, just as they had done for more than half a century. The shock in the Little Rock, Arkansas, Sertoma club, however, is still painful: in the mid-1980s, nearly fifty people had attended the weekly luncheon to plan activities to help the hearing- and speech-impaired, but a decade later only seven regulars continued to show up.
The Roanoke, Virginia, chapter of the National Association for the Advancement of Colored People (NAACP) had been an active force for civil rights since 1918, but during the 1990s membership withered from about 2,500 to a few hundred. By November 1998 even a heated contest for president drew only fifty-seven voting members. Black city councillor Carroll Swain observed ruefully, "Some people today are a wee bit complacent until something jumps up and bites them." VFW Post 2378 in Berwyn, Illinois, a blue-collar suburb of Chicago, was long a bustling "home away from home" for local veterans and a kind of working-class country club for the neighborhood, hosting wedding receptions and class reunions. By 1999, however, membership had so dwindled that it was a struggle just to pay taxes on the yellow brick post hall. Although numerous veterans of Vietnam and the post-Vietnam military lived in the area, Tom Kissell, national membership director for the VFW, observed, "Kids today just aren't joiners."
The Charity League of Dallas had met every Friday morning for fifty-seven years to sew, knit, and visit, but on April 30, 1999, they held their last meeting; the average age of the group had risen to eighty, the last new member had joined two years earlier, and president Pat Dilbeck said ruefully, "I feel like this is a sinking ship." Precisely three days later and 1,200 miles to the northeast, the Vassar alumnae of Washington, D.C., closed down their fifty-first -- and last -- annual book sale. Even though they aimed to sell more than one hundred thousand books to benefit college scholarships in the 1999 event, co-chair Alix Myerson explained, the volunteers who ran the program "are in their sixties, seventies, and eighties. They're dying, and they're not replaceable." Meanwhile, as Tewksbury Memorial High School (TMHS), just north of Boston, opened in the fall of 1999, forty brand-new royal blue uniforms newly purchased for the marching band remained in storage, since only four students signed up to play. Roger Whittlesey, TMHS band director, recalled that twenty years earlier the band numbered more than eighty, but participation had waned ever since. Somehow in the last several decades of the twentieth century all these community groups and tens of thousands like them across America began to fade.
It wasn't so much that old members dropped out -- at least not any more rapidly than age and the accidents of life had always meant. But community organizations were no longer continuously revitalized, as they had been in the past, by freshets of new members. Organizational leaders were flummoxed. For years they assumed that their problem must have local roots or at least that it was peculiar to their organization, so they commissioned dozens of studies to recommend reforms. The slowdown was puzzling because for as long as anyone could remember, membership rolls and activity lists had lengthened steadily.
In the 1960s, in fact, community groups across America had seemed to stand on the threshold of a new era of expanded involvement. Except for the civic drought induced by the Great Depression, their activity had shot up year after year, cultivated by assiduous civic gardeners and watered by increasing affluence and education. Each annual report registered rising membership. Churches and synagogues were packed, as more American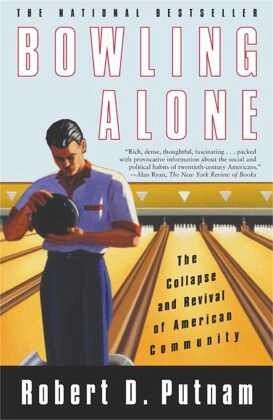 In a groundbreaking book based on vast new data, Robert Putnam shows how we have become increasingly disconnected from family, friends, neighbours and our democratic structures - and how we may reconnect.

Drawing on vast new data that reveal Americans' changing behavior, Putnam shows how we have become increasingly disconnected from one another and how social structures - whether they be PTA, church, or political parties - have disintegrated. Until the publication of this groundbreaking work, no one had so deftly diagnosed the harm that these broken bonds have wreaked on our physical and civic health, nor had anyone exalted their fundamental power in creating a society that is happy, healthy, and safe.
Like defining works from the past, such as The Lonely Crowd and The Affluent Society, and like the works of C. Wright Mills and Betty Friedan, Putnam's Bowling Alone has identified a central crisis at the heart of our society and suggests what we can do.
Produktdetails
Touchstone Book
Verlag: Simon & Schuster Uk
Touchstone.
Seitenzahl: 544
2001
Ausstattung/Bilder: 2001. 544 S. 214.312 mm
Englisch
Abmessung: 214mm x 142mm x 34mm
Gewicht: 498g
ISBN-13: 9780743203043
ISBN-10: 0743203046
Best.Nr.: 10169780
Contents
SECTION I: INTRODUCTION
CHAPTER 1: Thinking about Social Change in America
SECTION II: TRENDS IN CIVIC ENGAGEMENT AND SOCIAL CAPITAL
CHAPTER 2: Political Participation
CHAPTER 3: Civic Participation
CHAPTER 4: Religious Participation
CHAPTER 5: Connections in the Workplace
CHAPTER 6: Informal Social Connections
CHAPTER 7: Altruism, Volunteering, and Philanthropy
CHAPTER 8: Reciprocity, Honesty, and Trust
CHAPTER 9: Against the Tide? Small Groups, Social Movements, and the Net
SECTION III: WHY?
CHAPTER 10: Introduction
CHAPTER 11: Pressures of Time and Money
CHAPTER 12: Mobility and Sprawl
CHAPTER 13: Technology and Mass Media
CHAPTER 14: From Generation to Generation
CHAPTER 15: What Killed Civic Engagement? Summing Up
SECTION IV: SO WHAT? (with the assistance of Kristin A. Goss)
CHAPTER 16: Introduction
CHAPTER 17: Education and Children's Welfare
CHAPTER 18: Safe and Productive Neighborhoods
CHAPTER 19: Economic Prosperity
CHAPTER 20: Health and Happiness
CHAPTER 21: Democracy
CHAPTER 22: The Dark Side of Social Capital
SECTION V: WHAT IS TO BE DONE?
CHAPTER 23: Lessons of History: The Gilded Age and the Progressive Era
CHAPTER 24: Toward an Agenda for Social Capitalists
APPENDIX I: Measuring Social Change
APPENDIX II: Sources for Figures and Tables
APPENDIX III: The Rise and Fall of Civic and Professional Associations
NOTES
THE STORY BEHIND THIS BOOK
INDEX
Besprechung von 24.03.2001
Wer alleine kegeln muss
Die neue Einsamkeit: In den USA nimmt das traditionelle soziale Engagement rapide ab
ROBERT D. PUTNAM:
Bowling Alone. The Collapse and Revival of American Community, Simon and Schuster, London 2001. 541 Seiten, 17. 99 Pfund.
Kulturpessimismus ist wieder einmal angesagt – und dies nicht nur im alten engen Europa, sondern auch im Land des Optimismus, in den USA. Dort heißt es, der solidarische Zusammenhang der Gesellschaft zerfalle. Ätzend wie Salzsäure zersetze Individualisierung die überkommenen sozialen Bindungen. Hinter vordergründiger Vielfalt, Buntheit und Widersprüchlichkeit tausender neuer Lebensstile verberge sich in Wirklichkeit die Einsamkeit des einzelnen. Als Beleg für diese Entwicklung wird vor allem auf das Organisationsverhalten der Jüngeren verwiesen, die sich den Großorganisationen wie Parteien, Gewerkschaften, Kirchen verweigern.
Genau in dieses Horn blasen seit einigen Jahren amerikanische Kommunitaristen, unter anderem Robert D. Putnam, Politikprofessor der Harvard University. Folgt man seinen Daten und Reflexionen, dann ist es heute um jene solidarische Kooperation in Amerika ganz schlecht bestellt, von der Alexis de Tocqueville einst geschwärmt hatte. Putnam malt ein düsteres Bild. Politische Beteiligung und Interesse hätten nachgelassen. Mitwirken in Nachbarschaftsorganisationen und Elternvertretungen in der Schule nähmen ab. Auch informelle soziale Kontakte ließen nach: Kartenspielen mit Nachbarn,
Freunde zum Essen einladen, Kegeln in Klub. Kurz: Soziales Kapital gehe verloren.
Wo liegen die Ursachen dieses sozialen Niedergangs? Die Hauptverantwortung weist der Autor dem Generationswechsel zu, nämlich der Ersetzung der an den Angelegenheiten der res publica partizipierenden Babyboomer durch ihre sozial wenig engagierten Kinder. Dann spielen elektronische Medien, allen voran natürlich das Fernsehen, die Zersiedlung der Städte sowie der finanzielle und zeitliche Druck auf die Familien eine Rolle. Die Folgen sind gravierend: Die Qualität des Bildungssystems, die Sicherheit der Nachbarschaften, demokratische Verantwortung, menschliches Vertrauen, ja selbst physische und psychische Gesundheit seien bedroht.
Doch halt: Geht der selbstgenerierte Pessimismus nicht mit dem Autor durch? Viele Gegentendenzen werden zwar angedeutet, aber nicht reflektiert. So hat das Organisationsverhalten auch in den USA sich verändert. Traditionelle Vereine verlieren durchaus an Zuspruch, indes gewinnen andere, etwa im Umweltbereich. Richtig ist, dass gerade die Jüngeren sich nicht mehr fest an "ihren" Rotary Club oder Kulturbund binden, dass sie aber in Bürgerinitiativen ad hoc mitmachen. Lockere Bindung bedeutet nicht Bindungslosigkeit. Schließlich: Freiwillige Sozialarbeit in den Kirchengemeinden und Kommunen, Spenden für karitative Zwecke haben zugenommen. Putnams Buch ist für uns nicht nur faszinierend, weil sich hier ähnliche kulturpessimistische Diskurse breit machen wie in Amerika. Überall bleiben Sozialwissenschaftler auf die alten Institutionen und Organisationen fixiert. Bürgerinitiative statt SPD, Love Parade statt IG-Metall muss nicht gleich auf den Untergang des Abendlandes hinauslaufen.
PETER LÖSCHE
Der Rezensent lehrt Politikwissenschaft in Göttingen.
SZdigital: Alle Rechte vorbehalten - Süddeutsche Zeitung GmbH, München
Jegliche Veröffentlichung exklusiv über www.diz-muenchen.de

…mehr
Alan Ryan The New York Review of Books Rich, dense, thoughtful, fascinating...packed with provocative information about the social and political habits of twentieth-century Americans.