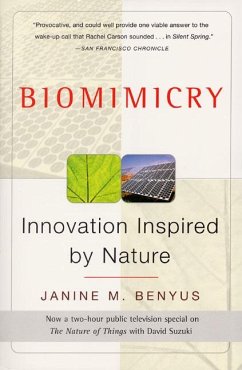 Biomimicry
Innovation Inspired by Nature
Broschiertes Buch
Sprache: Englisch
Weihnachts-Garantie: Jetzt bestellt - rechtzeitig geliefert!
versandkostenfrei

innerhalb Deutschlands

Sofort lieferbar

Alle Preise inkl. MwSt.
Andere Kunden interessierten sich auch für
Biomimicry
If chaos theory transformed our view of the universe, biomimicry is transforming our life on earth. Biomimicry is innovation inspired by nature--taking advantage of evolution s 3.8 billion years of R&D since the first bacteria. Biomimics study nature s best ideas: photosynthesis, brain power, spider silk and shells--and adapt them for human use. They are revolutionizing how we invent, compute, heal ourselves, harness energy, repair the environment, and feed the world.
Science writer and lecturer Janine Benyus names and explains this phenomenon. She takes us into the lab and out in the field with cutting-edge researchers as they . stir vats of proteins to unleash their computing power; . analyze how electrons zipping around a leaf cell convert sunlight into fuel in trillionths of a second; . discover miracle drugs by watching what chimps eat when they re sick, . study the hardy prairie as a model for low-maintenance agriculture, and more.
These are dramatic stories of vision and invention. Biomimicry shows that the answers to some of our most pressing survival questions are all around us. This is must reading for anyone interested in the shape of our future.
Produktinformation
---
Verlag: Harpercollins Us
2011
Ausstattung/Bilder: 2002. 308 p. w. col. ill.
Seitenzahl: 320
Englisch
Abmessung: 205mm x 135mm x 20mm
Gewicht: 243g
ISBN-13: 9780060533229
ISBN-10: 0060533226
Best.Nr.: 22383151