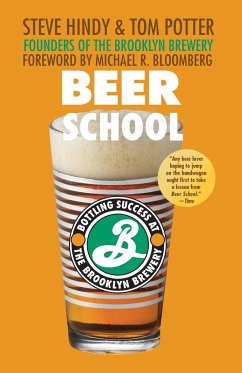 Beer School
Bottling Success at the Brooklyn Brewery
Broschiertes Buch
Sprache: Englisch
versandkostenfrei

innerhalb Deutschlands

Versandfertig in über 4 Wochen

Alle Preise inkl. MwSt.
Andere Kunden interessierten sich auch für
Beer School
A journalist and a banker share the life and business lessons they learned while building a successful brewery in New York City "A great city should have great beer. New York finally has, thanks to Brooklyn. Steve Hindy and Tom Potter provided it. Beer School explains how they did it: their mistakes as well as their triumphs." -Michael Jackson, The Beer Hunter(r) "This account serves up more than the usual suds and foam-its counsel is sound and its prose lively, and it should appeal to both wannabe industrialists and beer drinkers, not that those categories are mutually exclusive." -Publishers Weekly "Great lessons on what every first-time entrepreneur will experience. Being down the block from the Brooklyn Brewery, I had firsthand witness to their positive impact on our community. I give Steve and Tom's book an A++!" -Norm Brodsky, Senior Contributing Editor, Inc. magazine "Steve Hindy and Tom Potter's Beer School may be the first business book ever that could set the cold heart of a Hollywood producer racing. This one has it all, Mr. DeMille, and if I owned the rights, I'd already have my people on the line with your people." -Jack Curtin, Celebrator Beer News "Beer School is a useful and entertaining book. In essence, this is the story of starting a beer business from scratch in New York City. The product is one readers can relate to, and the market is as tough as they get. What a fun challenge! The book can help not only those entrepreneurs who are starting a business but also those trying to grow one once it is established." -Michael Preston, Adjunct Professor, Lang Center for Entrepreneurship, Columbia Business School, and coauthor of The Road to Success: How to Manage Growth "The revealing story Steve and Tom tell about two partners entering a business out of passion, in an industry they knew little about, being seriously undercapitalized, with an overly naive business plan, and their ultimate success, is an inspiring tale." -Ken Grossman, founder, Sierra Nevada Brewing Co.

"Any beer lover hoping to jump on the bandwagon ought first to take a lesson from Beer School." - TimeEntertaining and informative, Beer School is the true story of two neighbors - a banker and a journalist - who decided to quit their jobs and open the Brooklyn Brewery. Starting with no knowledge of commercial brewing, cofounders Steve Hindy and Tom Potter quickly learned that their four combined Ivy League degrees would only take them so far in this competitive business. Through the firsthand experiences of Hindy and Potter, Beer School takes readers on a 15-year journey from the kitchen of a Brooklyn brownstone to the shelves of stores around the world. More than just an interesting read about barley and hops, Beer School looks at the business side of this lucrative industry and what it takes to succeed and grow in a hypercompetitive industry.
Produktinformation
---
Verlag: Wiley & Sons
2007
Ausstattung/Bilder: 304 pages - 207 x 131 mm
Seitenzahl: 288
Best.Nr. des Verlages: 14506867000
Englisch
Abmessung: 209mm x 126mm x 24mm
Gewicht: 295g
ISBN-13: 9780470068670
ISBN-10: 0470068671
Best.Nr.: 21590425
"This gripping and lighthearted read charts their successes and failures and leaves you thirty for more." (Sainsbury's Magazine, September 2009)
STEVE HINDY is President and cofounder of The Brooklyn Brewery. A former Middle East correspondent for The Associated Press, he is currently a director of Brooklyn's Prospect Park Alliance and the Brewers Association. Hindy has a master's degree in teaching English from Cornell.

TOM POTTER cofounded the Brooklyn Brewery in 1987. He served as its CEO and chairman until his retirement in 2004. Previously, he was an assistant vice president at Chemical Bank, where he financed the acquisition of assets valued in excess of $1.5 billion. Potter graduated from Yale and has an MBA from Columbia.?
Inhaltsangabe
Foreword

Preface Steve and Tom Introduce the Brooklyn Brewery

Acknowledgments

Chapter 1. Steve Tells How Choosing a Partner Is Like a Second Marriage
Lesson One: Even a Dog Can Shake Hands

Chapter 2. Steve Discusses the Importance of Building a Solid Team
Lesson Two: Is It a Business or a Family Business?

Chapter 3. Tom Talks about Creating the Business Plan: A Money-Raising Tool and More
Lesson Three: The Business Plan Won't Be Graded on a Curve

Chapter 4. Tom Asks, "What's the True Mission of the Business?"
Lesson Four: Being Flexible If the Mission Statement Becomes "Mission Impossible"

Chapter 5. Steve Discusses the Keys to Successfully Motivating Employees
Lesson Five: Feeling Good Is No Substitute for Prudent Controls

Chapter 6. Tom Tells the Story of Their Dot-Com Revolution: Fishing for Finance and Failing
Lesson Six: Chasing Money Is Not a Business Strategy

Chapter 7. Steve Talks about Building a Brewery in Brooklyn
Lesson Seven: Sometimes You Stand Alone

Chapter 8. Steve Discusses Publicity: The Press Wants You!
Lesson Eight: A News Release Can Go a Long Way

Chapter 9. Steve Reveals How the Revolution Kills Its Leaders First
Lesson Nine: Hiring and Firing

Chapter 10. Tom Talks about Cashing Out and Reinventing the Business, Again
Lesson Ten: Only You Will Know When It's Time to Sell

Chapter 11. Tom Wants to Know If You Have What It Takes
Lesson Eleven: There Are No Entrance Exams for Entrepreneurs

Timeline

Index