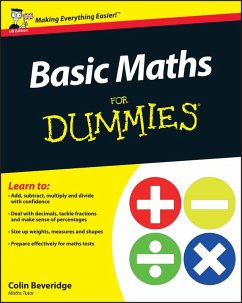 Basic Maths For Dummies
Broschiertes Buch
Sprache: Englisch
versandkostenfrei

innerhalb Deutschlands

Versandfertig in über 4 Wochen

Alle Preise inkl. MwSt.
Andere Kunden interessierten sich auch für
Basic Maths For Dummies
Whether you are returning to school, studying for an adult numeracy test, helping your kids with homework, or seeking the confidence that a firm maths foundation provides in everyday encounters, Basic Maths For Dummies, UK Edition, provides the content you need to improve your basic maths skills. Based upon the Adult Numeracy Core Curriculum, this title covers such topics as: * Getting started with the building blocks of maths and setting yourself up for success * Dealing with decimals, percentages and tackling fractions without fear * Sizing Up weights, measures, and shapes * How to handle statistics and gauge probability Filled with real-world examples and written by a PhD-level mathematician who specialises in tutoring adults and students, Basic Maths For Dummies also provides practical advice on overcoming maths anxiety and a host of tips, tricks, and memory aids that make learning maths (almost) painless - and even fun.

Make numbers dance to your tune -in no time!
No head for numbers? Feel like maths isn't your thing? Stop selling yourself short. Maths tutor Colin Beveridge believes that doing maths comes as naturally to humans as swimming does to fish, and he proves it in Basic Maths For Dummies. Encompassing the Adult Numeracy Core Curriculum, and using Colin's proven formula for turning anybody - even the most maths-phobic student - into a natural number-cruncher, this book arms you with the confidence and skills you need to handle everyday maths challenges, return to school, pass skills and employability exams with flying colours, and help the kids with their homework.
Face down the competition - overcome maths anxiety and set yourself up for success
Get a firm footing - master the building blocks of maths, including addition, subtraction and long division
Take their measure - size up weights, measures, rates, conversions and geometric shapes
Show 'em who's boss - give fractions no quarter, put decimals in their place and accept nothing less than 100% from percentages
Beat the odds - discover how to decipher statistics, gauge odds and predict probabilities
Shoot from the hip - learn simple tricks for making reliable estimates - fast
Open the book and find:
Tricks for conquering maths anxiety
Addition, subtraction, multiplication and division made easy
Advice on money, weights, measures and shapes
How to read charts, tables and graphs at a glance
Guidance on conquering fractions, decimals and percentages
How to decipher statistics and probabilities
How to handle ballpark estimates and rough calculations in your head
Learn to:
Add, subtract, multiply and divide with confidence
Deal with decimals, tackle fractions and make sense of percentages
Size up weights, measures and shapes
Prepare effectively for maths tests
Produktinformation
---
Verlag: Wiley & Sons
2011
1. Auflage
Ausstattung/Bilder: 1. Auflage. 2011. 360 S.
Best.Nr. des Verlages: 1W119974520
Englisch
Abmessung: 239mm x 192mm x 23mm
Gewicht: 690g
ISBN-13: 9781119974529
ISBN-10: 1119974526
Best.Nr.: 33315582
Colin Beveridge holds a doctorate in mathematics from the University of St Andrews. He gave up a position as a researcher at Montana State University (working with NASA, among other projects) to become a full-time maths tutor, helping adults, GCSE, A-level and university students overcome their fear of maths - a position he finds 'far more enjoyable than real work'.
Inhaltsangabe
Introduction 1
Part I: Whole Numbers: The Building Blocks of Maths 7
Chapter 1: Getting Started 9
Chapter 2: Setting Yourself Up for Success 23
Chapter 3: It All Adds Up: Addition and Subtraction 35
Chapter 4: Equal Piles: Multiplying and Dividing 53
Chapter 5: Are We Nearly There Yet? Rounding and Estimating 75
Part II: Parts of the Whole 89
Chapter 6: Cake or Death: Fractions without Fear 91
Chapter 7: What's the Point? Dealing with Decimals 107
Chapter 8: It's All Relative: Ratios and Proportions 123
Chapter 9: Perfect Percentages, 100% of the Time 137
Part III: Sizing Up Weights, Shapes and Measures 151
Chapter 10: Clocking Time 153
Chapter 11: Working with Cold, Hard Cash 163
Chapter 12: Taking the Weight Off Your Shoulders 175
Chapter 13: Feeling the Heat 189
Chapter 14: That's About the Size of It 203
Chapter 15: Shaping Up 223
Part IV: Statistically Speaking 237
Chapter 16: Data Mining (No Hard Hat Required) 239
Chapter 17: Top of the Charts 255
Chapter 18: Average Joe 275
Chapter 19: What Are the Chances? 289
Part V: The Part of Tens 305
Chapter 20: Ten Ways to Prepare Yourself Before You Start Studying 307
Chapter 21: Ten Tricks for Remembering Your Number Facts 313
Chapter 22: Ten Pitfalls to Avoid 323
Chapter 23: Ten Ways to Make Any Exam Easier 327
Index 333