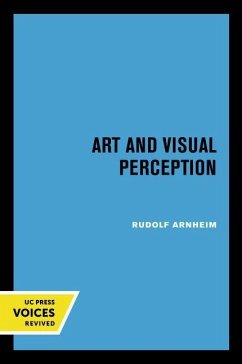 Art and Visual Perception: A Psychology of the Creative Eye
Broschiertes Buch
Sprache: Englisch
versandkostenfrei

innerhalb Deutschlands

EUR 24,95

Sofort lieferbar

Alle Preise inkl. MwSt.
Andere Kunden interessierten sich auch für
Art and Visual Perception: A Psychology of the Creative Eye
"In The Ego and the Id Freud argued that a cogent thought process, to say nothing of conscious intellectual work, could not exist amidst the unruliness of visual experience. Over the last half century in a sequence of landmark books, Rudolf Arnheim has not only shown us how wrong that is, he has parsed the grammar of form with uncanny acuity and taught us how to read it."--Jonathan Feinburg, author of Art since 1940: Strategies of Being

Description
Since its publication fifty years ago, this work has established itself as a classic. It casts the visual process in psychological terms and describes the creative way one's eye organizes visual material according to specific psychological premises. In 1974 this book was revised and expanded, and since then it has continued to burnish Rudolf Arnheim's reputation as a groundbreaking theoretician in the fields of art and psychology.
Produktinformation
---
Abmessung: 231mm x 163mm x 36mm
Gewicht: 672g
ISBN-13: 9780520243835
ISBN-10: 0520243838
Best.Nr.: 13663840
Rudolf Arnheim is Professor Emeritus of the Psychology of Art at Harvard University. His books include Film as Art (California, 1957), Visual Thinking (1969), The Dynamics of Architectural Form (California, 1977), The Split and the Structure: Twenty-eight Essays (California, 1996).