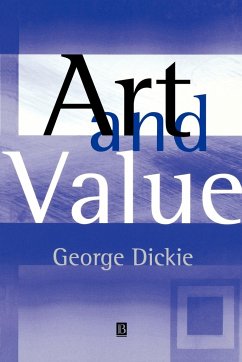 Art and Value
Broschiertes Buch
Sprache: Englisch
versandkostenfrei

innerhalb Deutschlands

Versandfertig in über 4 Wochen

Alle Preise inkl. MwSt.
Andere Kunden interessierten sich auch für
Art and Value
For much of the last half-century, George Dickie has been one of the preeminent philosophers of art in the Anglo-American tradition, deeply influencing the generations of theorists who have followed. He is most frequently associated with his "institutional theory of art," which situates the classification of objects as artworks in social practices and institutions, rather than in the ontology of objects or in features of human psychology.Art and Value focuses broadly on questions of history, methods, and the nature of art theories, as well as the value and evaluation of art. The discussions are crisp and clear, and the conclusions are consistently illuminating. This book serves as a valuable primer to aesthetics, as well as a summary and extension of Dickie's contribution to the field.
Produktinformation
---
Gewicht: 185g
ISBN-13: 9780631229469
ISBN-10: 0631229469
Best.Nr.: 13581691
"George Dickie's Art and Value is an elegant restatement of the virtues of the institutional theory of art and his conception of artistic evaluation. This lively and trenchant riposte to critics will ensure that his work remains much discussed and will prove to be an invaluable resource for students." Matthew Kieran, University of Leeds. "Professor Dickie does an excellent job combining and articulating the insights accumulated during his long career in the philosophy of art. Of special significance is his discussion of how 'what is art' relates to 'what is good art?" George Bailey, East Carolina University.
George Dickie is a Professor Emeritus at the University of Illinois at Chicago. He is the author of Aesthetics: An Introduction (1971), Art and the Aesthetic: An Institutional Analysis (1974), The Art Circle (1984), The Century of Taste (1996), and Evaluating Art (1988). He co-edited Aesthetics: A Critical Anthology (1989, second edition), and Introduction to Aesthetics (1997).
Inhaltsangabe
Introduction.
1. The Historical Background Of The Philosophy Of Art.
2. Methodological Background In The Philosophy Of Art.
3. The Nature Of Art Theories.
4. The History of the Institutional Theory.
5. The Evaluation of Art.
6. Art and Value.