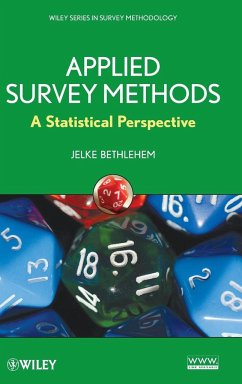 Applied Survey Methods
A Statistical Perspective
Gebundenes Buch
Sprache: Englisch
versandkostenfrei

innerhalb Deutschlands

Versandfertig in über 4 Wochen

Alle Preise inkl. MwSt.
Andere Kunden interessierten sich auch für
Applied Survey Methods
Emphasizing the statistical aspects of survey methods, Applied Survey Methods describes the complete survey process, from design to publication. This valuable book provides an overview of the theory as well as the practical applications of survey research methods, such as item and unit non-response and the associated treatment. Practicing statisticians, survey methodologists, and graduate students will discover topics not found in any other survey methodology books, including weighting methods, data editing, web surveys and disclosure control.
Produktinformation
---
Verlag: Wiley & Sons
2010
1. Auflage
Ausstattung/Bilder: 1. Auflage. 2009. 376 S. 239 mm
Seitenzahl: 375
Wiley Series in Survey Methodology
Best.Nr. des Verlages: 14537308000
Englisch
Abmessung: 236mm x 155mm x 23mm
Gewicht: 648g
ISBN-13: 9780470373088
ISBN-10: 0470373083
Best.Nr.: 26432613
Jelke Bethlehem, PhD, is Senior Advisor in the Department of Statistical Methods at Statistics Netherlands and Professor of Statistical Information Processing at the University of Amsterdam. Dr. Bethlehem's current research interests include Web surveys, computer-assisted survey information collection, graphical techniques in statistics, and user-friendly software for statistical analysis. He is coeditor of Computer Assisted Survey Information Collection, also published by Wiley.
Inhaltsangabe
Preface
1. The Survey Process
1.1. About Surveys
1.2. A Survey, Step-by-Step
1.3. Some History of Survey Research
1.4. This Book
1.5. Samplonia
Exercises
2. Basic Concepts
2.1. The Survey Objectives
2.2. The Target Population
2.3. The Sampling Frame
2.4. Sampling
2.5. Estimation
Exercises
3. Questionnaire Design
3.1. The Questionnaire
3.2. Factual and Nonfactual Questions
3.3. The Question Text
3.4. Answer Types
3.5. Question Order
3.6. Questionnaire Testing
Exercises
4. Single Sampling Designs
4.1. Simple Random Sampling
4.2. Systematic Sampling
4.3. Unequal Probability Sampling
4.4. Systematic Sampling with Unequal Probabilities
Exercises
5. Composite Sampling Designs
5.1. Stratified Sampling
5.2. Cluster Sampling
5.3. Two-Stage Sampling
5.4. Two-Dimensional Sampling
Exercises
6. Estimators
6.1. Use of Auxiliary Information
6.2. A Descriptive Model
6.3. The Direct Estimator
6.4. The Ratio Estimator
6.5. The Regression Estimator
6.6. The Poststratification Estimator
Exercises
7. Data Collection
7.1. Traditional Data Collection
7.2. Computer-Assisted Interviewing
7.3. Mixed-Mode Data Collection
7.4. Electronic Questionnaires
7.5. Data Collection with Blaise
Exercises
8. The Quality of the Results
8.1. Errors in Surveys
8.2. Detection and Correction of Errors
8.3. Imputation Techniques
8.4. Data Editing Strategies
Exercises
9. The Nonresponse Problem
9.1. Nonresponse
9.2. Response Rates
9.3. Models for Nonresponse
9.4. Analysis of Nonresponse
9.5. Nonresponse Correction Techniques
Exercises
10. Weighting Adjustment
10.1. Introduction
10.2. Poststratification
10.3. Linear Weighting
10.4. Multiplicative Weighting
10.5. Calibration Estimation
10.6. Other Weighting Issues
10.7. Use of Propensity Scores
10.8. A Practical Example
Exercises
11. Online Surveys
11.1. The Popularity of Online Research
11.2. Errors in Online Surveys
11.3. The Theoretical Framework
11.4. Correction by Adjustment Weighting
11.5. Correction Using a Reference Survey
11.6. Sampling the Non-Internet Population
11.7. Propensity Weighting
11.8. Simulating the Effects of Undercoverage
11.9. Simulating the Effects of Self-Selection
11.10. About the Use of Online Surveys
Exercises
12. Analysis and Publication
12.1. About Data Analysis
12.2. The Analysis of Dirty Data
12.3. Preparing a Survey Report
12.4. Use of Graphs
Exercises
13. Statistical Disclosure Control
13.1. Introduction
13.2. The Basic Disclosure Problem
13.3. The Concept of Uniqueness
13.4. Disclosure Scenarios
13.5. Models for the Disclosure Risk
13.6. Practical Disclosure Protection
Exercises
References
Index