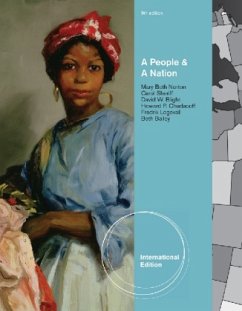 A People & A Nation, International Edition
By Norton, Mary B.; Sheriff, Carol; Blight, David W. et al.
Broschiertes Buch
Sprache: Englisch
versandkostenfrei

innerhalb Deutschlands

Sofort lieferbar

Alle Preise inkl. MwSt.
Andere Kunden interessierten sich auch für
A People & A Nation, International Edition
A PEOPLE AND A NATION, International Edition is a best-selling text offering a spirited narrative that tells the stories of all people in the United States. The authors attention to race and racial identity and their inclusion of everyday people and popular culture brings history to life, engaging readers and encouraging them to imagine what life was really like in the past. Available in the following split options: A PEOPLE AND A NATION, Ninth Edition (Chapters 1 33), ISBN: 0495916544; Volume I: To 1877 (Chapters 1 16), ISBN: 0495916552; Volume II: Since 1865 (Chapters 16 33), ISBN: 0495916560.
Produktinformation
---
Englisch
Gewicht: 2079g
ISBN-13: 9780495916543
ISBN-10: 0495916544
Best.Nr.: 33204718
Inhaltsangabe
1. Structure and Process of Supervision.
2. Supervision Models: Psychotherapy-based Non-Psychotherapy-based.
3. Effective Supervision.
4. Supervisor.
Gender and Perceived Stereotypes. Theoretical Orientation, Interaction and Learning Styles. BTI Types. Negative-Harmful Supervision.
5. Supervisee.
Attachment Style. Self-presentation and Self-disclosure. Interaction and Learning Styles. Theoretical Orientation. Gender & Perceived Stereotypes.
6. Assessment of the Trainee.
Knowledge and Skills. Personal Dynamics. Formal Assessment Tools.
7. Supervision Ethics.
8. Legal Aspects of Supervision in Psychotherapy.
9. Impacts of Culture and Diversity on the Supervisory Relationship and Process.