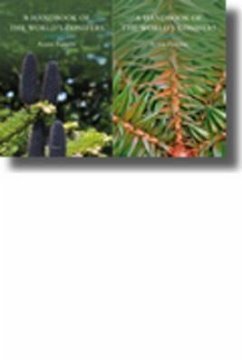 A Handbook of the World's Conifers, 2 Vols.
Gebundenes Buch
Sprache: Englisch
Sofort lieferbar

Alle Preise inkl. MwSt.
Andere Kunden interessierten sich auch für
A Handbook of the World's Conifers, 2 Vols.
Conifers are known to everyone as a conspicuous kind of evergreen trees or shrubs that feature prominently in gardens and parks as well as in many managed forests in the cool to cold temperate regions of the Northern Hemisphere. Numerous books have been written about them and continue to appear, mostly with a bias towards these uses in Europe and North America. This new handbook of the conifers is departing from this traditional approach in that it includes all the world's 615 species of conifers, of which some 200 occur in the tropics. It gives as much information about these and the Southern Hemisphere conifers as about the better known species, drawing on research into the taxonomy, biology, ecology, distribution and uses by the author over nearly 30 years. The result is a truly encyclopedic work, a true handbook of all the world's conifers, richly illustrated by the author with his line drawings and photographs taken from the natural habitats of the species.
Produktinformation
---
Verlag: Brill
2010
Ausstattung/Bilder: 2010. 1112 p.
Englisch
Abmessung: 307mm x 220mm x 70mm
Gewicht: 4515g
ISBN-13: 9789004177185
ISBN-10: 9004177183
Best.Nr.: 28435515
Aljos Farjon is based at the Royal Botanic Gardens Kew. He is acknowledged as the world's foremost expert on conifer systematics and has published 11 books and more than 50 papers on this subject. He is chairman of IUCN's Conifer Specialist Group since 1995.