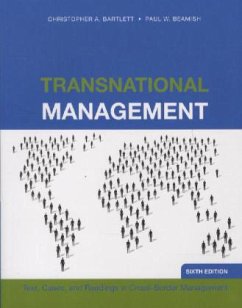 Transnational Management
Text, Cases, and Readings in Cross-Border Management
Broschiertes Buch
Sprache: Englisch
versandkostenfrei

innerhalb Deutschlands

Versandfertig in 1-2 Wochen

Alle Preise inkl. MwSt.
Andere Kunden interessierten sich auch für
Transnational Management
"Transnational Management" focuses on the management challenges associated with developing strategies and managing the operations of companies whose activities stretch across national boundaries. The purpose of this book is to provide a conceptual framework of the interplay between the multinational corporation, the countries in which it does business, and the competitive environment in which it operates. Through text narrative, cases, and readings, the authors skilfully examine the development of strategy, organizational capabilities, and management challenges for operating in the global economy.
Produktinformation
---
Abmessung: 23, 5 cm
Gewicht: 1098g
ISBN-13: 9780071267434
ISBN-10: 0071267433
Best.Nr.: 27375070
Inhaltsangabe
Part 1 The Strategic Imperatives
Chapter 1 Expanding Abroad: Motivations, Means, and Mentalities
Case 1-1 Lincoln Electric
Case 1-2 Jollibee Foods Corporation (A): International Expansion
Case 1-3 Acer, Inc.: Taiwan's Rampaging Dragon
Case 1-4 Research in Motion: Managing Explosive Growth
Reading 1-1 The Tortuous Evolution of the Multinational Corporation
Reading 1-2 Distance Still Matters: The Hard Reality of Global Expansion
Reading 1-3 When You Shouldn't Go Global
Chapter 2 Understanding the International Context: Responding to Conflicting Environmental Forces
Case 2-1 Global Wine Wars 2009: New World versus Old
Case 2-2 The Globalization of CEMEX
Case 2-3 Mattel and the Toy Recalls (A)
Reading 2-1 Culture and Organization
Reading 2-2 Clusters and the New Economics of Competition
Chapter 3 Developing Transnational Strategies: Building Layers of Competitive Advantage
Case 3-1 Marketing the "$100 Laptop" (A)
Case 3-2 Global Branding of Stella Artois
Case 3-3 GE's Imagination Breakthrough: The Evo Project
Reading 3-1 Managing Differences: The Central Challenge of Global Strategy
Reading 3-2 How Local Companies Keep Multinationals at Bay
Reading 3-3 Regional Strategies for Global Leadership
Part 2: The Organizational Challenge
Chapter 4 Developing a Transnational Organization: Managing Integration, Responsiveness, and Flexibility
Case 4-1 Philips versus Matsushita: Competing Strategic and Organizational Choices
Case 4-2 ECCO A/S - Global Value Chain Management
Case 4-3 World Vision International's AIDS Initiative: Challenging a Global Partnership
Reading 4-1 Managing Multicultural Teams
Reading 4-2 Managing Executive Attention in the Global Company
Reading 4-3 Matrix Management: Not a Structure, a Frame of Mind
Chapter 5 Creating Worldwide Innovation and Learning: Exploiting Cross Border Knowledge Management
Case 5-1 Siemens AG: Global Development Strategy
Case 5-2 P&G Japan: The SK-II Globalization Project
Case 5-3 McKinsey & Company: Managing Knowledge and Learning
Reading 5-1 Building Effective R&D Capabilities Abroad
Reading 5-2 Connect and Develop: Inside Procter & Gamble's New Model for Innovation
Reading 5-3 Finding, Forming, and Performing: Creating Networks for Discontinuous Innovation
Chapter 6 Engaging in Cross-Border Collaboration: Managing across Corporate Boundaries
Case 6-1 Nora-Sakari: A Proposed JV in Malaysia (Revised)
Case 6-2 Mahindra and Mahindra Ltd.--Farm Equipment Sector: Acquisition of Jiangling Tractor Company
Case 6-3 Eli Lilly in India: Rethinking the Joint Venture Strategy
Reading 6-1 The Design and Management of International Joint Ventures
Reading 6-2 Collaborate with Your Competitors - and Win
Part 3: The Managerial Implications
Chapter 7 Implementing the Strategy: Building Multidimensional Capabilities
Case 7-1 ING Insurance in Asia/Pacific
Case 7-2 BRL Hardy: Globalizing an Australian Wine Company
Case 7-3 Silvio Napoli at Schindler India (A)
Reading 7-1 Local Memoirs of a Global Manager
Reading 7-2 Tap Your Subsidiaries for Global Reach
Chapter 8 The Future of the Transnational: An Evolving Global Role
Case 8-1 Hitting the Wall: Nike and International Labor Practices
Case 8-2 IKEA's Global Sourcing Challenge: Indian Rugs and Child Labor(A)
Case 8-3 Killer Coke: Campaign Against Coca-Cola
Case 8-4 Genzyme's CSR Dilemma: How to Play its HAND
Reading 8-1 Values in Tension: Ethics Away From Home
Reading 8-2 Serving the World's Poor, Profitably

Ein Marktplatz-Angebot für "Transnational Management" für EUR 30,00
Zustand
Preis
Porto
Zahlung
Verkäufer
Rating
deutliche Gebrauchsspuren
30,00
4,50
Banküberweisung
KaletschBücher
100,0%
ansehen