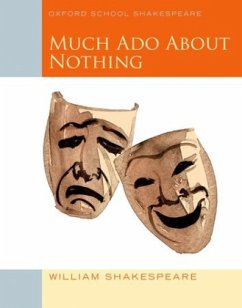 Oxford School Shakespeare. Much Ado about Nothing
Reader
Broschiertes Schulbuch
versandkostenfrei

innerhalb Deutschlands

Sofort lieferbar

Alle Preise inkl. MwSt.
Andere Kunden interessierten sich auch für
Much Ado about Nothing
The Oxford School Shakespeare is a well-established series which helps students understand and enjoy Shakespeare's plays.
As well as the complete and unabridged text, each play in this series has an extensive range of notes. These include detailed explanations of difficult words and passages, a synopsis of the plot and summaries of individual scenes, and notes on the main characters.
There are also illustrations and photographs to enhance understanding, background information on Shakespeare's England, suggestions for further reading, a brief biography of Shakespeare, and a complete list of his plays.

Oxford School Shakespeare is an acclaimed edition especially designed for students, with accessible on-page notes and explanatory illustrations, clear background information, and rigorous but accessible scholarly credentials. Much Ado About Nothing is a popular text for study by secondary students the world over. This edition includes illustrations, preliminary notes, reading lists (including websites) and classroom notes.
Produktinformation
---
Oxford School Shakespeare
2010
2nd ed repr.
Ausstattung/Bilder: 2nd ed repr. 2010. 124 p. w. figs.
Oxford School Shakespeare
Englisch
Abmessung: 216mm x 171mm x 12mm
Gewicht: 252g
ISBN-13: 9783068016787
ISBN-10: 3068016789
Best.Nr.: 28172718
William Shakespeare (1564-1616) gilt als einer der größten Dichter und Dramatiker der Weltgeschichte. Er verfasste zahlreiche Dramen, Tragödien, Komödien und Gedichte, mit denen er schon zu Lebzeiten Anerkennung und Wohlstand errang. Aber erst in den folgenden Jahrhunderten wurde er zum Prototypen des literarischen Genies, ohne den die Entwicklung der neueren Literatur von Goethe über Brecht bis in die Gegenwart hinein undenkbar ist.
Andere Kunden kauften auch