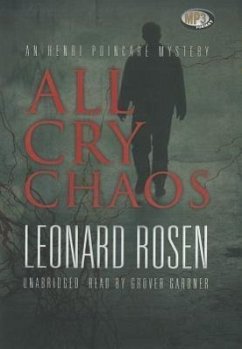 All Cry Chaos
Sprecher: Gardner, Grover
Audio CD
versandkostenfrei

innerhalb Deutschlands

Versandfertig in über 4 Wochen

Alle Preise inkl. MwSt.
Andere Kunden interessierten sich auch für
All Cry Chaos
"All Cry Chaos," a debut thriller by the immensely gifted Leonard Rosen, is a masterful and gripping tale that literally reaches for the heavens. On the eve of a long-scheduled speech at a World Trade Organization meeting, mathematician James Fenster is assassinated. The hit is as elegant as it is bizarre. Fenster's Amsterdam hotel room is incinerated, yet the rest of the building remains intact. The murder trail leads veteran Interpol agent Henri Poincare' on a high-stakes, world-crossing quest for answers.Together with his chain-smoking, bon vivant colleague, Serge Laurent, Poincare' pursues a long list of suspects. He begins to make progress in America, but there is a vicious hatred trained on him--left over from a terrifying former genocide case--and he is called back to Europe to face the unfathomable. Stripped down and in despair, tested like Job, he realizes the two cases might be connected--and he might be the link.
Produktinformation
---
ISBN-10: 1441792902
Best.Nr.: 33300737
Laufzeit: 630 Min.