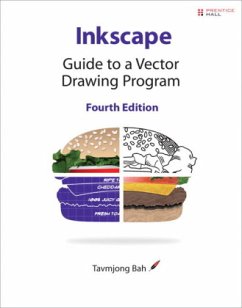 Inkscape: Guide to a Vector Drawing Program
Broschiertes Buch
Sprache: Englisch
versandkostenfrei

innerhalb Deutschlands

EUR 31,95

Sofort lieferbar

Alle Preise inkl. MwSt.
Andere Kunden interessierten sich auch für
Inkscape: Guide to a Vector Drawing Program
Inkscape: Guide to a Vector Drawing Program, Fourth Edition, is the guide to the Inkscape program, with coverage of versions 0.47 and 0.48. This authoritative introduction and reference features hundreds of useful illustrations. With Inkscape, you can produce a wide variety of art, from photorealistic drawings to organizational charts. Inkscape uses SVG, a powerful vector-based drawing language and W3C web standard, as its native format. SVG drawings can be viewed directly in browsers such as Firefox, Chrome, Safari, Opera, and Internet Explorer 9. A subset of SVG has been adopted by the mobile phone market. Inkscape is available free for the Windows, Macintosh, and Linux operating systems. Systematic coverage of the entire Inkscape program begins with eleven tutorials ranging in difficulty from very basic to highly complex. The remainder of the book covers each facet of Inkscape in detail with an emphasis on practical solutions for common problems. The book is filled with valuable tips and warnings about the use of Inkscape and SVG. Find dozens of Inkscape illustrations from the book in the online color supplement available at http://tavmjong.free.fr/INKSCAPE/. Updated for Inkscape v0.48, this edition includes complete coverage of new features, including the new Spray Tool, updated Node and Text tools, improved bitmap image import, LaTex export for PDF/EPS/PS, added extensions including the JessyInk extension for web-based presentations, the adaptive UI, and the new Glyphs dialog.
Produktinformation
---
Abmessung: 274mm x 216mm x 28mm
Gewicht: 1142g
ISBN-13: 9780132764148
ISBN-10: 0132764148
Best.Nr.: 33253819
Tavmjong Bah is a physicist living in Paris whose writing about Inkscape combines his love for technology and culture. An active member of the community,Tav is an Inkscape developer and is responsible for the improvement in the Text tool between versions 0.47 and 0.48. He represents Inkscape as an invited expert in the W3C SVG working group. His nom de plume is the title granted to him by the paramount chief of the Nso, a Cameroonian people.
Acknowledgments xi
About the Author xii
Overview of What Is in This Book xiii
Introduction xiv
Chapter 1: Quick Start 1
The Anatomy of the Inkscape Window 1
The Swedish Flag-A Short Example 5
The European Flag-A More Elaborate Example 16
A Hiking Club Logo-An Exercise in Paths 19
The Northern Pacific Railway Logo-A Tracing Example 31
A Box for Cards-An Isometric Projection 38
A Can of Soup-A Three-Dimensional Drawing with Gradients 43
A Vine Design-A Tiling Example 56
An SVG Button-SVG and the Web 66
A Neon Sign-Animation 73
A Bank Note-Security Features 89
A Bottle-Photorealism 101
Chapter 2: Files 110
Opening and Saving Files 110
Importing Files 111
Exporting Files 114
Printing Files 128
Vacuuming Files 129
Chapter 3: Changing the View 130
Panning the Canvas 130
Zooming the Canvas 130
Miscellaneous View Commands 131
Chapter 4: Editing Basics 134
Undo and Redo 134
Selecting Objects 134
Copying, Pasting, and Deleting Objects 137
Clones 138
Ordering Objects (Z-Order) 139
Groups 140
Layers 140
Chapter 5: Positioning and Transforming 143
Inkscape Coordinates 143
Transformations 144
Snapping 152
Alignment and Distribution of Objects 157
Chapter 6: Geometric Shapes 161
Rectangles and Squares 161
3D Boxes 163
Ellipses, Circles, and Arcs 166
Regular Polygons and Stars 167
Spirals 169
Chapter 7: Paths 172
Bezier Curves 172
Creating Paths 173
Editing Paths 185
Path Operations 194
Chapter 8: Live Path Effects (LPEs) 197
Bend 198
Construct Grid 199
Envelope Deformation 199
Gears 199
Hatches (Rough) 200
Interpolate Sub-Paths 201
Knot 202
Pattern Along Path (LPE) 203
Ruler 206
Sketch 206
Spiro Spline 208
Stitch Sub-Paths 209
VonKoch 212
Chapter 9: Text 216
Creating Text 216
Selecting Text 218
Editing Text 219
Formatting Text 220
Text on a Path 224
Text in a Shape 225
Chapter 10: Attributes 227
Fill and Stroke Paint 227
Stroke Style 249
Chapter 11: Tweak Tool 254
Tweaking Objects 254
Tweaking Paths 255
Tweaking Colors 256
Chapter 12: Spray Tool 257
Chapter 13: Eraser Tool 259
Eraser Touch Mode 259
Eraser Cut-Out Mode 259
Chapter 14: Paint Bucket Tool 261
Simple Use 261
Filling Fidelity 262
Filling Multiple Regions 263
Closing Gaps 263
Adding to a Fill 264
Chapter 15: Clipping and Masking 265
Clipping 266
Masking 266
Chapter 16: Filter Effects-Preset 267
Use of Preset Filters 267
ABCs 268
Bevels 269
Blurs 270
Bumps 271
Color 273
Distort 274
Image Effects 275
Image Effects, Transparent 276
Materials 277
Morphology 278
Non Realistic 3D Shaders 279
Overlays 280
Protrusions 281
Ridges 281
Scatter 282
Shadows and Glows 282
Textures 283
Transparency Utilities 284
Chapter 17: Filter Effects-Custom 285
Basic Use 285
Filter Effects Dialog 286
Mini Tutorial-A Drop Shadow 287
Color Filter Primitives 290
Compositing Filter Primitives 292
Fill Filter Primitives 296
Lighting Filters Primitives 300
Pixel Manipulation Filter Primitives 302
Complex Examples 311
Chapter 18: XML Editor 315
Basic Usage 315
Editing XML Nodes 316
Examples 317
Chapter 19: Tiling 319
Symmetry Tab 320
Shift Tab 323
Scale Tab 327
Rotation Tab 329
Blur and Opacity Tab 331
Color Tab 333
Trace 335
Tricks 339
Chapter 20: Tracing Bitmaps 342
Single Scans 344
Multiple Scans 346
Common Options 349
SIOX 350
Chapter 21: Connectors 351
Creating Connectors 351
Modifying Connectors 352
Chapter 22: Extensions 353
Arrange 354
Color 355
Generate from Path 364
Images 374
JessyInk (Presentations) 374
Modify Path 377
Raster 386
Render 387
Text 401
Visualize Path 403
Web 405
Chapter 23: SVG and the Web 409
Simple SVG Display 410
Positioning SVG 414
Adding Links 416
Using Style Sheets 418
Adding JavaScript 419
Simple Animation 421
Inkscape for the Web 422
Chapter 24: Customization 424
Inkscape Preferences Dialog 424
Inkscape Configuration Files 424
Chapter 25: Using the Command Line 428
General Command Line Options 429
Export Command Line Options 429
Query Command Line Options 431
Chapter 26: Challenges 433
Red Spiral 433
Knot 433
Squares 434
Pine Cone 434
Spiral Gyral 435
Appendix A: Inkview 436
Appendix B: File Format 437
Default Template File 437
SVG Groups with Objects 438
Groups of Objects 438
Paths 439
Defs 440
Appendix C: Spheres 441
Sphere with Gradient Shading and Shadow 441
Sphere with Hatched Shading and Shadow 441
Sphere with Dot Shading and Shadow 442
Sphere with Text Shading and Shadow 442
Appendix D: Solutions for Challenges 443
Red Spiral 443
Knot 445
Squares 447
Pine Cone 448
Spiral Gyral 450
Appendix E: List of Dialogs 451
Appendix F: Tips for Illustrator Converts 453
Key Mappings 453
Terminology 453
Glossary 455
Comprehensive Index 460
Index by Menu 471
Index by Tool 473