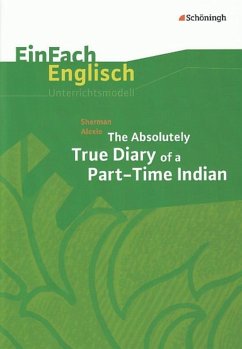 The Absolutely True Diary of a Part-Time Indian
EinFach Englisch Unterrichtsmodelle
Von Pfeiffer, Hannes; Weber, Sarah
Broschiertes Buch
versandkostenfrei

innerhalb Deutschlands

EUR 19,95

Sofort lieferbar

Alle Preise inkl. MwSt.
Andere Kunden interessierten sich auch für
The Absolutely True Diary of a Part-Time Indian
Contents:

The characters - Contents - The author - Vorüberlegungen zum Einsatz des Romans im Unterricht - Klausuren - Konzeption des Unterrichtsmodells - Components - Weiterführende Materialien

Component 1: Pre-reading and exposition (pp. 5-33): Sitting Indian-style - Part I - the exposition of the novel

Component 2: Junior goes to Reardan (pp. 34-52): Consequences of Junior's smashing Mr. P in the face with his book - Mr. P's confession - Internet research - education of the Indians - Go means go - Rowdy sings the blues - the end of a friendship?

Component 3: Coping in Reardan (pp. 53-119): How to fight monsters - The rules of fist fighting or David against Goliath - Trying to cope (group work) - Integration at Reardan - Chapters pp. 91-119 (skills training)

Component 4: Wins and losses - playing basketball at Reardan (pp. 120-181): Junior plays varsity - Between the games - Junior's perfect game

Component 5: Death, grief and hope - how Junior copes with the terrible deaths within his family (pp. 146-163, pp. 183-210): Wake - Eugene and Mary: how not to despair - Junior: an incarnation of hope - Reconciliation

Component 6: Post-reading activities: Junior's characterization - How to write a book review - Taboo - More ideas for while-/post-reading activities

Das Unterrichtsmodell bezieht sich auf folgende Textausgaben: Cornelsen BN: 031263 oder BN: 031264


Produktinformation
---
Verlag: Schöningh Im Westermann
2012
Ausstattung/Bilder: 2012. 88 S.
Seitenzahl: 88
EinFach Englisch Unterrichtsmodell
Best.Nr. des Verlages: 041187
Deutsch
Abmessung: 297mm x 209mm x 12mm
Gewicht: 255g
ISBN-13: 9783140411875
ISBN-10: 3140411871
Best.Nr.: 34763569
Sherman Alexie, geb. 1966, ist Spokane/Coeur dAlene-Indianer und wuchs in der Spokane Reservation, Washington, auf. Nach drei Gedichtbänden erschien seine Erzählsammlung 'Regenmacher'. Später folgten seine Romane 'Reservation Blues' und 'Indian Killer'. Er schrieb auch das preisgekrönte Drehbuch für den Film 'Smoke Signals'. Alexie lebt in Seattle.