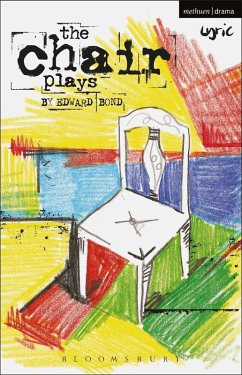 Chair Plays (eBook, PDF)
Have I None, The Under Room and Chair
versandkostenfrei

innerhalb Deutschlands

EUR 13,65

Sofort per Download lieferbar

Alle Preise inkl. MwSt.
Andere Kunden interessierten sich auch für
Chair Plays (eBook, PDF)
'I am nothing. Nobody. One day I could forget what I have done. Then I am nothing with no past. My knife is to tell me who I am. It is my passport to myself.' The Chair Plays are three one-act plays that Edward Bond has combined into one continuous drama on the state of society towards the end of the present century.Faced with ecological disaster and economic chaos, governments have become authoritarian and repressive. Domestic family life struggles to survive in a world of fleeing refugees, mass suicides, ruined and deserted suburbs, and soldiers patrolling the streets. Authority decrees even the exact placing of furniture in rooms. There is a knock at the door - but it is not the secret police. It is something even more disturbing. In this broken world sheer human goodness and vision asserts itself in stubborn and radiant ways. A master dramatist creates a range of extraordinary characters, vivid situations and radical theatrical devices to stage the central problem of modern life.
Produktinformation
---
ISBN-13: 9781408172810
ISBN-10: 140817281X
Best.Nr.: 39452124
What is impressive is the way Bond uses six "pictures" - his version of scenes in the script - to assemble a living portrait of a future in which unyielding bureaucracy is the chief instrument of state power ... unlike anything else ... Bond's production has the refreshing clarity of a glass of spring water. -- Michael Billington Guardian 20120515
Edward Bond was born and educated in London. His plays include The Pope's Wedding (Royal Court, 1962); Saved (Royal Court, 1965); Early Morning (Royal Court, 1968); Lear (Royal Court, 1971); Bingo (Northcott Theatre, Exeter, 1973); The Sea (Royal Court, 1973); The Fool (Royal Court, 1975); The Woman (National Theatre, 1978); Restoration (Royal Court, 1981); Summer (National Theatre, 1982); The War Plays (RSC at the Barbican Pit, 1985); In the Company of Men (Paris, 1992; RSC at the Barbican Pit, 1996); Coffee (Rational Theatre Company, Cardiff and London, 1996; Paris, 2000); The Children (Classworks, Cambridge, 2000); The Crime of the Twentyfirst Century (Paris, 2001); Born (Avignon, 2006) and nine plays which were toured by Big Brum Theatre-in-Education: At the Inland Sea (1995); Eleven Vests (1997); Have I None (2000); The Balancing Act (2003); The Under Room (2005); Tune (2007) and A Window (2009).