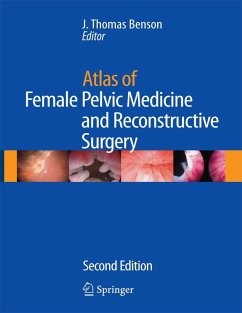 Atlas of Female Pelvic Medicine and Reconstructive Surgery
Ed.: Benson, J. Thomas
Gebundenes Buch
Sprache: Englisch
versandkostenfrei

innerhalb Deutschlands

EUR 225,39

Versandfertig in über 4 Wochen

Alle Preise inkl. MwSt.
Andere Kunden interessierten sich auch für
Atlas of Female Pelvic Medicine and Reconstructive Surgery
Previously titled the Atlas of Clinical Gynecology - Urogynecology, the new, four-color edition of the atlas is a comprehensive visual presentation of common gynecologic problems encountered in daily practice. Topics covered include anatomy, congenital anomalies, neurophysiology, pathophysiology, urinary incontinence and retention, overactive bladder, fecal incontinence, pelvic organ prolapse, genitourinary and rectovaginal fistulae and urethral diverticulae, and irritations and injuries to the genitourinary tract. This extensive collection of images, including photographs, charts, tables, algorithms, and diagrams, is an invaluable reference and teaching tool.

Produktinformation
---
Verlag: Springer, Berlin
2008
2nd ed.
Ausstattung/Bilder: 2nd ed. 2008. 208 p. w. numerous col. figs.
Seitenzahl: 208
Best.Nr. des Verlages: 12240692
Englisch
Abmessung: 305mm x 251mm x 23mm
Gewicht: 1576g
ISBN-13: 9781573403047
ISBN-10: 1573403040
Best.Nr.: 25326021
From the reviews of the second edition:

"The book is divided into fourteen chapters which include treatment of faecal incontinence and rectovaginal fistulas. Chapters start with short introduction and then the rest of the chapter is based on illustrations with extended legends which serves the purpose very well in delivering the message and is in an easy to remember format. It has 233 figures and 57 tables. ... it serves as a useful atlas. The book comes with a CD which basically includes the contents of the book." (The International Continence Society, Vol. 6 (2), July, 2010)

"This book covers urogynaecology in pictures, drawings, tables and images. ... covers the field so well that it actually stands as a reasonable textbook for trainees. The drawings and images are so clear and comprehensive ... . provide a teaching aid for patient and professional education. The tables in the book are appropriate summaries not only for history taking, conducting examinations and arranging investigations, minded by differential diagnosis and treatment options, but for patient counselling as well. The book is accompanied by a CD." (Sharif I. M. F. Ismail, International Urogynecology Journal, Vol. 20, 2009)

Blick ins Buch "Atlas of Female Pelvic Medicine and Reconstructive Surgery"
Frontmatter.- Preface.- Anatomy.- Congential Anomalies of the Female Genital Tract.-Neurophysiology: Pelvic Visceral Function.- Pathophysiology:Pelvic Visceral Dysfunction.- Diagnosis of Urinary Incontinence and Retention.- Treatment of Urinary Incontinence and Retention.- Evaluation of Fecal Incontinence and Constipation.- Treatment of Fecal Incontinence and Constipation.- Diagnostic Evaluation of Pelvic Organ Prlapse.- Nonsurgical Management of Prolapse.- Surgical Management of Prolapse.-Genitourinary and Rectovaginal Fistulae and Urethral Diverticulae.- Injuries to the Genitourinary Tract: Prevention, Recognition, and Management.