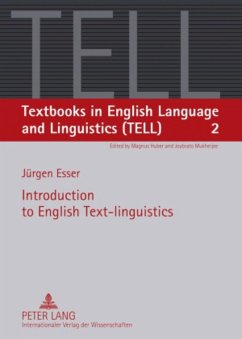 Introduction to English Text-linguistics
Broschiertes Buch
Sprache: Englisch
versandkostenfrei

innerhalb Deutschlands

Sofort lieferbar

Alle Preise inkl. MwSt.
Andere Kunden interessierten sich auch für
Introduction to English Text-linguistics
This is a comprehensive introduction to English text-linguistics. It deals with those areas of text-linguistics that have enjoyed widespread attention in English linguistics, notably aspects of cohesion and coherence. Further topics are corpus-based studies in lexical patterns and in text classifications, psycholinguistic and cognitive studies in text constitution and decoder-orientation. One special feature of this book is that it not only covers abstract lexical and grammatical structures but also medium-dependent written and spoken presentation.
Produktinformation
---
2012
Ausstattung/Bilder: 2009. XIV, 209 p. 210 mm
Seitenzahl: 209
Textbooks in English Language and Linguistics (TELL) Vol.2
Best.Nr. des Verlages: 56003
Englisch
Abmessung: 211mm x 151mm x 15mm
Gewicht: 310g
ISBN-13: 9783631560037
ISBN-10: 3631560036
Best.Nr.: 27671458
Jürgen Esser, born 1947, holds the Chair of Modern English Linguistics at the University of Bonn. He studied English Linguistics, General Linguistics and Phonetics at the Universities of Cologne and Freiburg im Breisgau and taught at the Universities of Dundee, Duisburg, Erlangen, Aachen and Bonn. His main research areas are intonation, spoken English, stylistics, word-order, media and presentation structures.
Inhaltsangabe
Contents : The scope of text-linguistics - Medium-independent elements and structures - Medium-dependent presentation - Psycholinguistic and cognitive aspects of text constitution - Decoder-orientation - Textual intentions.
3 Marktplatz-Angebote für "Introduction to English Text-linguistics" ab EUR 11,50
Zustand
Preis
Porto
Zahlung
Verkäufer
Rating
11,50
1,80
offene Rechnung (Vorkasse vorbehalten)
Schroeders Sammler Bücher
100,0%
ansehen
gebraucht; sehr gut
12,00
2,00
Selbstabholung und Barzahlung, PayPal, offene Rechnung, Banküberweisung
Fundus-Online GbR Borkert/ Schwarz/ Zerf
99,7%
ansehen
25,00
2,00
Selbstabholung und Barzahlung, PayPal, Kreditkarte, Lastschrift, offene Rechnung (Vorkasse vorbehalten)
Bergische Bücherstube
99,1%
ansehen