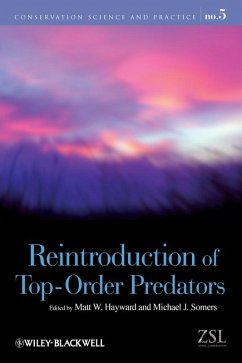 HINWEIS: Dieser Artikel kann aus rechtlichen Gründen nur mit Rechnungsadresse in D, A, CH ausgeliefert werden.
Reintroduction of Top-Order Predators (eBook, PDF)
versandkostenfrei

innerhalb Deutschlands

Statt EUR 79,15*

EUR 67,99

Sofort per Download lieferbar

Alle Preise inkl. MwSt.
*Preis der gedruckten Ausgabe (Broschiertes Buch)

-14 %
Andere Kunden interessierten sich auch für
Reintroduction of Top-Order Predators (eBook, PDF)
Large predators are among the most threatened species on the planet and ways of conserving them in the face of increasing human populations and associated resource requirements are becoming critical. This book draws upon the experiences of some of the world's foremost large carnivore specialists to discuss the numerous issues associated reintroducing large predators back into their natural habitats. Reviews of internationally renowned reintroduction programs for wolves, European lynx and African wild dog reveal the successes and failures of these actions. Experts on tigers, snow leopards and jaguars contend that there are other conservation options of higher priority that will ensure their security in the long-term. Other experts discuss more theoretical aspects such as whether we know enough about these species to be able to predict their behavioural or ecological response to the reintroduction process. Social, economic, political and genetic considerations are also addressed.
Produktinformation
---
ISBN-13: 9781444312027
ISBN-10: 1444312022
Best.Nr.: 37343859
"This is an informative and important book that will prove to be of great interest to Australian ecologists as the need for top-order predator reintroductions becomes more urgent in this country. It is highly recommended reading for all state and national conservation administrators and wild-life scientists." (Austral Ecology and Ecological Management & Restoration, 2011)
"This book, which is very easy to read, is based on the experiences of some large carnivore specialists in the world to discuss the numerous issues associated with reintroduction of large predators in their natural habitats." (Mammalia, 2010)

Matt Hayward conducted a PhD on the conservation ecology of the Australian marsupial quokka, then studied bushmeat hunting in the Transkei region of South Africa and the reintroduction of large predators to Addo Elephant National Park. He is currently researching Holarctic predator dietary ecology, forest regeneration and European bison conservation in BiaBowiea Primeval Forest, Poland. Michael Somers is a lecturer at the Centre for Wildlife Management and a core team member of the NRF-DST Centre of Excellence for Invasion Biology at the University of Pretoria. His research interests are broad but mostly include reintroduction biology and invasion ecology.
Leseprobe zu "Reintroduction of Top-Order Predators (eBook, PDF)"
PDF anzeigen
List of contributors.
Foreword by Hans Kruuk.

Acknowledgements.

Dedications.

1. Reintroduction of Top-order Predators: Using Science to restore one of the drivers of biodiversity Matt W. Hayward & Michael J. Somers .

2. A critical assessment of South Africa's managed metapopulation recovery strategy for African wild dogs and its value as a template for large carnivore conservation elsewhere Harriet T. Davies-Mostert, M. Gus L. Mills & David W. Macdonald.

3. Reintroduction decisions taken at the incorrect social scale devalue their conservation contribution: the African lion in South Africa Rob Slotow & Luke T.B. Hunter .

4. Recovery of Eurasian lynx in Europe: what part has reintroduction played? John D. C. Linnell, Urs Breitenmoser, Christine Breitenmoser-Würsten, John Odden & Manuela von Arx.

5. Reintroduction of wolves to Yellowstone National Park: History, values and ecosystem restoration.

Douglas W. Smith & Edward E. Bangs .

6. Aspects and Implications of Bear Reintroduction Joseph D. Clark.

7. Tiger reintroduction in India: conservation tool or costly dream? A. J. T. Johnsingh & M. D. Madhusudan.

8. Snow Leopards: Is reintroduction the best option? Rodney M Jackson and Som B. Ale.

9. The Suitability of the Jaguar ( Panthera onca ) for Reintroduction (what we know, what we need to know) Marcella J. Kelly & Scott Silver.

10. The status and conservation of leopards and other large carnivores in the Congo Basin, and the potential role of reintroduction Philipp Henschel .

11. Reintroducing the dingo: can Australia's conservation wastelands be restored? Chris R. Dickman, Alistair S. Glen & Mike Letnic .

12. The role of social behaviour in carnivore reintroductions Michael J. Somers & Markus Gusset .

13. Survival of cheetahs relocated from ranchland to fenced protected areas in South Africa Kelly Marnewick, Matt W. Hayward, Deon Cilliers, & Michael J. Somers .

14. A framework for evaluating reintroduction success in carnivores: lessons from African wild dogs Markus Gusset .

15. A synthesis of early indicators of the drivers of predator conservation on private lands in South Africa P.A. Lindsey, S. Romañ;ach & H. Davies-Mostert .

16. Moving beyond the descriptive: predicting the responses of top-order predators to reintroduction Matt W. Hayward .

17. Genetic considerations in reintroduction programs for large terrestrial predators Richard Frankham .

18. Breeding Far Eastern leopards for reintroduction - the zoo program perspective Sarah Christie.

19. Lessons learnt and plans laid: seven awkward questions for the future of reintroductions David W. Macdonald .

Index