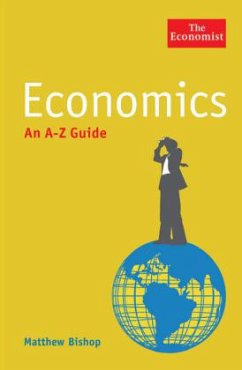 Economics
An A-Z Guide
Broschiertes Buch
Sprache: Englisch
versandkostenfrei

innerhalb Deutschlands

Sofort lieferbar

Alle Preise inkl. MwSt.
*Früherer Preis

-8 %
Andere Kunden interessierten sich auch für
Economics
Economics is the 'study of how society uses its scarce resources' or, more snappily, 'the science of choices' that helps people make decisions about how to use such scarce things as land, labour, raw materials, capital, entrepreneurial spirit and time. An understanding of economics can therefore help people in politics and public service, in business and the professions, and even in their private life make decisions that will produce the results they are seeking to achieve.This book is a clear and lively guide to the essentials of economics, with entries that stretch from A to Z and cover such topics, terms and jargon as: Animal spirits, Barter, Cannibalise, Dumping, Economic man, First-mover advantage, Gresham's Law, Hypothecation, Inequality, J-curve, Kleptocracy, Lump of labour fallacy, Money illusion, New economy, Opportunity cost, Positional goods, Queueing, Random walk, Satisficing, Tragedy of the commons, Utility, Value at risk, Winner-takes-all markets, X-efficiency, Yield gap and Zero-sum game.
Produktinformation
---
Verlag: Profile Books
2009
Ausstattung/Bilder: 2009. 339 p.
Seitenzahl: 339
The Economist
Englisch
Abmessung: 197mm x 132mm x 25mm
Gewicht: 290g
ISBN-13: 9781846681660
ISBN-10: 1846681669
Best.Nr.: 25457922
There couldn't be a better time for these business guides from The Economist - They're a handy guide, with some dry humour and stern disapproval thrown it to stop things getting too dull - These are interesting and excellent reference guides to those interested in the markets, or who own shares. Anybody who thinks they have nothing to learn from these is asking for trouble, or raised eyebrows at the very leastA" - Jeremy Hazlehurst, City AM.
Matthew Bishop is The Economist's New York Bureau Chief.
4 Marktplatz-Angebote für "Economics" ab EUR 10,00
Zustand
Preis
Porto
Zahlung
Verkäufer
Rating
wie neu
10,00
1,20
Banküberweisung
Nanna
100,0%
ansehen
Wie neu
12,50
1,60
Selbstabholung und Barzahlung, PayPal, Banküberweisung
Hausmanns Büchershop
98,4%
ansehen
Wie neu
12,50
1,60
Selbstabholung und Barzahlung, Banküberweisung
Buchversand Zorneding
98,9%
ansehen
Wie neu
12,70
0,00
Banküberweisung
gregorgille
97,8%
ansehen