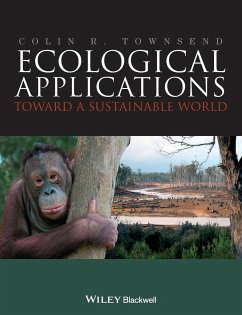 Ecological Applications
Toward a Sustainable World
Broschiertes Buch
Sprache: Englisch
versandkostenfrei

innerhalb Deutschlands

Versandfertig in über 4 Wochen

Alle Preise inkl. MwSt.
Andere Kunden interessierten sich auch für
Ecological Applications
Ecological Applications offers a progressive examination of the way ecological theory can be applied to remedy the many problems confronting us. The text moves through the levels of individual organisms, populations, communities, and ecosystems, culminating with the macroecological scale of landscape, regional, and global issues. The book is designed to grab the reader's interest with real-life problems but also to instil an understanding of the fundamentals of ecology. Applications including species conservation, pest control, harvest management, biosecurity, restoration, and reserve design are explored in both terrestrial and aquatic settings. The focus is on ecological sustainability, but economic and sociopolitical dimensions related to the sustainable use of natural resources are also examined. Ecological Applications is a current and comprehensive guide to the theory and practice of ecology for students and practitioners alike.
Produktinformation
---
Verlag: Wiley & Sons
2008
Ausstattung/Bilder: 2007. 328 p.
Seitenzahl: 346
Best.Nr. des Verlages: 1A405136980
Englisch
Abmessung: 246mm x 188mm x 19mm
Gewicht: 806g
ISBN-13: 9781405136983
ISBN-10: 1405136987
Best.Nr.: 22752124
"I think this text will be extremely useful and popular with the students ...The overall tone of the book is lively, warmly humorous, engaging, and clear." Dr Anita Diaz, Bournemouth University" This new text ... provides information on the very topical subject of sustainability and further shows how ecological theories and techniques can be applied to conservation and management decisions ... I have been reorganizing my course to more closely follow the structure laid out in this book because I think it is a logical way to teach ecology." Dr Bethan Wood, University of Glasgow "I like the organization of the book ... I also like how Townsend has emphasized the applied aspects and placed the ecological basics in "boxes." Realistically, as Townsend states, if a student only takes one ecology course, it should be one that emphasizes applied ecology. What a great and long-overdue approach." Dr James Houpis, California State University, Chico "This is the first textbook that I have read with an organization that emphasizes the contemporary application of major conceptual paradigms in ecology ... This textbook provides all that is needed in teaching undergraduate students the essential relationship linking ecological theory with natural resource management." Dr Eric Dibble, Mississippi State University
Colin R. Townsend is the Director of the Ecology, Conservation and Biodiversity Research Group at the University of Otago. He has published over 150 ecology papers and books. He is also co-editor of the international journal Freshwater Biology.
Inhaltsangabe
- Preface

1. Introduction - humans, nature and human nature

Part 1: Ecological applications at the level of individual organisms:
2. Ecological applications of niche theory
3. Life-history theory and management
4. Dispersal, migration and management

Part 2: Applications at the level of populations:
5. Conservation of endangered species
6. Pest management
7. Harvest management

Part 3: Applications at the level of communities and ecosystems:
8. Succession and management
9. Applications from food web and ecosystem theory

Part 4: Applications at the regional and global scales:
10. Landscape management
11. Dealing with global climate change

- Index