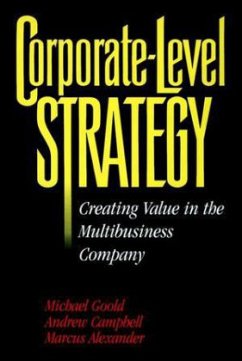 Corporate-Level Strategy
Creating Value in the Multibusiness Company
Gebundenes Buch
Sprache: Englisch
versandkostenfrei

innerhalb Deutschlands

Versandfertig in über 4 Wochen

Alle Preise inkl. MwSt.
Andere Kunden interessierten sich auch für
Corporate-Level Strategy
Advance praise for Corporate-Level Strategy. "At last a book that cuts through all the corporate jargon and academic generalizations to answer the question 'Does the corporate parent create or destroy value for the organization?' The authors suggest a simple yet compelling framework for making this determination. Must reading for students and practitioners alike." -Robert Cizik Chairman and Chief Executive Officer Cooper Industries "In an era when the role of corporate-level management is quite justifiably being questioned and challenged, it is refreshing to find a book that clearly shows how parent companies can add rather than destroy value in their businesses. As we would expect of these world class authorities, Goold, Campbell, and Alexander have leveraged their fascinating research findings into an eminently readable and highly practical book." -Chris Bartlett Professor Harvard Business School "A vital and deeply researched contribution to thinking about corporate strategy." -Gary Hamel London Business School "I am very impressed by the extensive work on which this book is based, and by the concept of parenting advantage that it puts forward." -Yasutaka Obayashi Senior General Manager, Corporate Strategy Canon "Great companies grow, they don't just cut. With breakups and restructuring done, corporate parenting is coming back. Goold, Campbell, and Alexander have produced a comprehensive and intelligent book which should become a standard guide on the subject." -Tom Hout Vice President The Boston Consulting Group "A perceptive and valuable insight into an often underestimated area of strategy. This book clearly demonstrates the importance of parenting to the longer term development and prosperity of multibusiness companies." -Alan R. Jackson Chief Executive, BTR "I am glad someone has so well and so fully shed light on this important body of thinking." -Sigurd Reinton Director, McKinsey & Company, 1981-1988

This groundbreaking book on corporate-level strategy is the fruit of ten years of consulting and research with corporations in North America, Europe, and Japan. Michael Goold, Andrew Campbell, and Marcus Alexander have focused on the question of how parent companies create-or destroy-value in the businesses making up their organizations. They propose a new approach to the management of multibusiness companies, based on the goal of "parenting advantage": being the best parent for each of the businesses in the corporate portfolio. Multibusiness corporations around the globe are grappling with fundamental questions about what businesses their companies should be in, and how they should structure and influence their businesses. For many companies, restructuring and divestitures seem to be the sensible solution. But the authors of Corporate-Level Strategy show that size and diversity are not necessarily problems. More often than not, the fatal flaw is not the range of businesses in the portfolio, but the lack of a corporate strategy that will add any value to them. Corporate-Level Strategy arms senior managers and corporate planners with a set of proven strategic principles and clear guidelines for successfully managing a diverse, multibusiness company.
Produktinformation
---
Verlag: Wiley & Sons
1994
Ausstattung/Bilder: w. figs.
Best.Nr. des Verlages: 14604716000
Englisch
Abmessung: 36mm x 164mm x 238mm
Gewicht: 900g
ISBN-13: 9780471047162
ISBN-10: 0471047163
Best.Nr.: 06993441
Andrew Campbell is director of the Ashridge Strategic Management Centre in London and is acknowledged as leading thinker on issues of corporate strategy and organization.§§The Centre conducts research on large divisionalized companies. It is part of the Ashridge Trust, one of the world's top schools for executive education and development. Prior to establishing the Centre in 1987, the author was Fellow at the Centre for Business Strategy at London Business School. He has written numerous books together including Strategies and Styles, Corporate Level Strategy and Synergy.
Inhaltsangabe
CORPORATE STRATEGY AND PARENTING ADVANTAGE.

Corporate Strategy: The Issues.

Parenting Advantage: The Framework.

Questions About Parenting Advantage.

Corporate Strategy: The Background.

SUCCESSFUL CORPORATE STRATEGIES.

How Parents Create Value.

Stand-Alone Influence.

Linkage Influence.

Functional and Services Influence.

Corporate Development.

The Evolution of Corporate Strategies.

Successful Corporate Strategies.

DEVELOPING A CORPORATE STRATEGY.

Developing a Corporate Strategy: Overview.

Developing Corporate Strategy: An Example.

Decisions About the Portfolio.

Decisions About the Parent.

Putting Parenting Advantage into Practice.

Appendices.

Index.
Ein Marktplatz-Angebot für "Corporate-Level Strategy" für EUR 80,00
Zustand
Preis
Porto
Zahlung
Verkäufer
Rating
wie neu
80,00
1,00
Banküberweisung
Lalla Khti
100,0%
ansehen