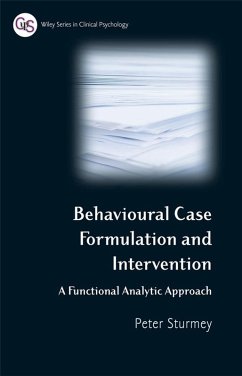 Behavioural Case Formulation and Intervention
A Functional Analytic Approach
Sprache: Englisch
versandkostenfrei

innerhalb Deutschlands

Versandfertig in über 4 Wochen

Alle Preise inkl. MwSt.
Andere Kunden interessierten sich auch für
Behavioural Case Formulation and Intervention
Case Formulation and Intervention in Clinical Psychology: A Functional Analytic Approach provides a complete update on developments in functional analysis over the last ten years. Applying a behavioral approach to case formulation, this volume will be organized into three sections: Conceptual Foundations, Applications with Specific Problems, and Assessment and Case Formulation. It will include a chapter on treatment, and will provide examples from many different clinical problems. Included in the Wiley Series in Clinical Psychology Unique explicitly behavioural approach to case formulation Peter Sturmey recognized as an international authority on functional assessment
Produktinformation
---
Verlag: Wiley & Sons
2008
Ausstattung/Bilder: 2008. 320 p.
Seitenzahl: 328
Wiley Series in Clinical Psychology
Englisch
Abmessung: 235mm x 152mm x 24mm
Gewicht: 630g
ISBN-13: 9780470018897
ISBN-10: 0470018895
Best.Nr.: 20931074
Peter Sturmey is Associate Professor in the Department of Psychology, Queen's College, City University of New York. He is recognized as an international authority on functional assessment, and published Functional Analysis in Clinical Psychology with Wiley in 1996. More recently, he co-edited Offenders with Developmental Disabilities with Bill Lindsay and John Taylor in 2004.
- About the Author
- Preface
- Acknowledgements

PART I BEHAVIORISM AND BASIC LEARNING CONCEPTS

- Chapter 1 Structural and Functional Approaches to Case Formulation
- Chapter 2 Radical Behaviorism
- Chapter 3 Respondent Behavior
- Chapter 4 Operant Behavior I. Characteristics, Acquisition and Stimulus Control
- Chapter 5 Operant Behavior II. Satiation and Deprivation, Extinction, Shaping,Variability and Punishment
- Chapter 6 Complex Behavior I. Modeling, Chaining and Self-regulation
- Chapter 7 Complex Behavior II. Rule Governed Behavior, Stimulus Equivalence and Verbal Behavior

PART II CASE FORMULATION

- Chapter 8 Non-behavioral approaches to case formulation
- Chapter 9 Wolpe's Tradition of Case Formulation
- Chapter 10 Skinner and Psychotherapy
- Chapter 11 Behavioral Case Formulation
- Chapter 12 Behavioral Assessment
- Chapter 13 Outstanding Issues and Future Directions

- References

- Index