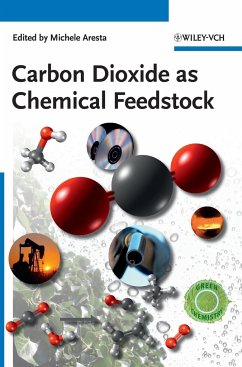 Carbon Dioxide as Chemical Feedstock
Ed. by Michele Aresta
Gebundenes Buch
Sprache: Englisch
Weihnachts-Garantie: Jetzt bestellt - rechtzeitig geliefert!
Sofort lieferbar

Alle Preise inkl. MwSt.
Andere Kunden interessierten sich auch für
Carbon Dioxide as Chemical Feedstock
Carbon dioxide is not only a gas found in our atmosphere, it can also be used as an important "C-1 building block" in synthetic chemistry or as a medium for organic reaction.
Filling the need for an up-to-date handbook, this ready reference closely investigates the use of CO2 for urea, enzymes, carbamates, and isocyanates, as well as its use as a solvent, in electrochemistry, biomass utilization and much more besides.
From the contents:
Pathways for CO2 Conversion in Nature
Carbon Dioxide Co-Ordination Chemistry and Reactivity of Co-Ordinated CO2
Main Group Elements- and Transition Metal-Promoted Carboxylation of Organic Substrates
Synthesis of N-CO2 Bonds
Synthesis of Molecular Carbonates
Polycarbonates, Polythiocarbonates, and Polyurethanes
CO2 Reduction
Non-Thermal Plasma Approaches for CO2 Utilization
Photochemical, Electrochemical and Photoelectrochemical Reduction of CO2
Electrochemical Carboxylations
Indirect Utilization of CO2
Fixation of CO2 into Inorganic Carbonates
Edited by an internationally renowned and experienced researcher, this is a comprehensive source for every synthetic chemist in academia and industry.
Produktinformation
---
Verlag: Wiley-Vch
2010
1. Auflage
Ausstattung/Bilder: 2010. XIV, 394 p.
Best.Nr. des Verlages: 1132475 000, 1132475000
Englisch
Abmessung: 250mm x 179mm x 25mm
Gewicht: 905g
ISBN-13: 9783527324750
ISBN-10: 3527324755
Best.Nr.: 26988646
Michele Aresta is full Professor of Inorganic Chemistry at the University of Bari and Honorary Professor of the Tianjin University. He is President of the Inorganic Chemistry Division of Italian Chemical Society and Director of the ?Interuniversity Consortium on Chemical Reactivity and Catalysis?. His areas of research are carbon dioxide utilisation in synthetic chemistry, catalysis, coordination and metallorganic chemistry. Professor Aresta is author of more than 200 papers and editor of four books. He has received several awards, like the Award of the Italian Chemical Society and the Prize of the Société Française de Chimie for Inorganic Chemistry.
Inhaltsangabe
The carbon dioxide problem and the contribution of the utilisation option to the reduction of the CO2-accumulation in the atmosphere
Utilization of dense carbon dioxide as inert solvent for chemical synthesis
Autotrophic carbon fixation in biology. Pathways, rules, and speculations
Carbon dioxide co-ordination chemistry and reactivity of co-ordinated CO2
Main Group elements- and transition metal-promoted carboxylation of organic substrates (alkanes, alkenes, alkynes, aromatics and others)
The chemistry of N-CO2 bonds. Synthesis of carbamic acids and their derivatives, isocyanates and ureas
Synthesis of linear and cyclic carbonates
Polymers from carbon Dioxide. Polycarbonates, Polythiocarbonates, and Polyurethanes
In-situ Study on Carbon Deposition during CO2 Reforming of Methane for Synthesis Gas Production Using Tapered Element Oscillation Microbalance
Utilization of Carbon Dioxide through Non-thermal Plasma Approaches
Photochemical, Electrochemical, and Photoelectrochemical Reduction of CO2
Recent scientific and technological developments in the electrochemical carboxylation based on carbon dioxide
Indirect utilization of CO2
Fixation of CO2 into inorganic carbonates