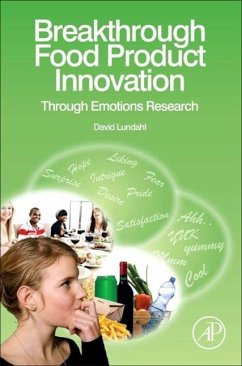 Breakthrough Food Product Innovation
Through Emotions Research
Gebundenes Buch
Sprache: Englisch
versandkostenfrei

innerhalb Deutschlands

Sofort lieferbar

Alle Preise inkl. MwSt.
Andere Kunden interessierten sich auch für
Breakthrough Food Product Innovation
Brand owners are in crisis. Consumer trust is at an all time low. Over 95% of all consumer product launches in the packaged goods sector fail to achieve their goals for success. This book gives a clear answer to why success rates are so low in the consumer packaged good industry and lays out a roadmap for product innovation - to make ideas successful. This book will inspire the reader to make a paradigm shift in how they approach product innovation - to be driven by the science of consumer behavior. The basic premise for this book is that emotions are at the root of all consumer motivations. Therefore, an innovation process focused on identifying how to turn up or down emotions that drive behavior will lead to product success. The applications of this process will be presented with several product success stories that show that understanding consumer behavior leads to deeper emotive connectivity, a broader playing field for differentiation, and speed to market.
Using case studies and real-world examples of product launch successes and failures, Behavior Driven Innovation is a must-read for those involved in product development, consumer research, and marketing.
Explores the role that emotion plays in consumer decision making
Case studies of product successes (and failures!) and the role behavioral understanding played
Provides insights into understanding the "whys" of consumer behavior, using a pull strategy to rapidly learn what consumers want, and designing for emotional impact
Provides a blueprint for the creation of nimble innovation strategies
Produktinformation
---
Verlag: Academic Press
2012
Ausstattung/Bilder: 2011. 256 p. 234 mm
Seitenzahl: 240
Academic Press
Englisch
Abmessung: 243mm x 161mm x 20mm
Gewicht: 585g
ISBN-13: 9780123877123
ISBN-10: 0123877121
Best.Nr.: 34540289
"An Oregon-based market researcher specializing in innovative food products, Lundahl explains how companies can use behavioral psychology and emerging emotions research to help devise and sell food products that people would otherwise not buy. He discusses change in the food industry, innovation; the innovation team; the science of emotions; emotions research; strategy development; discovery, define, design, and development; and the innovative company. Academic Pres is an imprint of Elsevier."--Reference and Research Book News, October 2012
Inhaltsangabe
Introduction - Current Problems in the Consumer Packaged Goods industry
1 - Innovation
2 - Introduction to Behavior in Innovation
3 - Behavioral Frameworks
4 - Developing Your Innovation Strategy
5 - Behavioral-Driven Discovery
6 - Conceptual Design for Scoping
7 - Product Design
8 - Rapid Iterative Building
9 - The Future is Now!