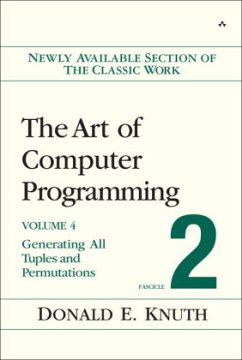 Generating All Tuples and Permutations
Broschiertes Buch
Sprache: Englisch
versandkostenfrei

innerhalb Deutschlands

Versandfertig in über 4 Wochen

Alle Preise inkl. MwSt.
Andere Kunden interessierten sich auch für
Generating All Tuples and Permutations
"Volume 4, Fascicle 2" - this fascicle inaugurates the eagerly awaited publication of Knuth's "The Art of Computer Programming, Volume 4: Combinatorial Algorithms". Part of what will be a long chapter on combinatorial searching, the fascicle begins his treatment of how to generate all possibilities. Specifically, it discusses the generation of all n-tuples, then extends those ideas to all permutations. Such algorithms provide a natural motivation by means of which many of the key ideas of combinatorial mathematics can be introduced and explored. In this and other fascicles of Volume 4, Knuth illuminates important theories by discussing related games and puzzles. Even serious programming can be fun.
Produktinformation
---
The Art of Computer Programming
Vol.4/2
2005
Seitenzahl: 127
Englisch
Abmessung: 247mm x 163mm x 9mm
Gewicht: 270g
ISBN-13: 9780201853933
ISBN-10: 0201853930
Best.Nr.: 13701590
Donald E. Knuth is known throughout the world for his pioneering work on algorithms and programming techniques, for his invention of the Tex and Metafont systems for computer typesetting, and for his prolific and influential writing. Professor Emeritus of The Art of Computer Programming at Stanford University, he currently devotes full time to the completion of these fascicles and the seven volumes to which they belong.
Inhaltsangabe
Chapter 7: Combinatorial Searching 7.2. Generating All Possibilities 1
7.2.1. Generating Basic Combinatorial Patterns 1
7.2.1.1. Generating alln-tuples 1
7.2.1.2. Generating all permutations 39 Answers to Exercises 76Index and Glossary 122